Quick-Step Variano Timber Floors
About Quick-Step Variano Timber Floors
The Quick-Step Variano floor range is a innovative collection that is brand new in the world of engineered wood flooring. Variano has unique planks with reclaimed look and pattern.
When you saw a tree into large planks, what do you do with the remaining bits? Quick-Step would not be Quick-Step if it failed to produce a stunning, unprecedented floor with those sections. The planks used in the Quick-Step Variano line are made of a multiplicity of small planks with different lengths, widths and finishes - long and short, wide and narrow, rough and even, having large and small knots, one slightly straighter than the next, perfectly even or with a saw cut - machined into a delightful eye-catcher with a distinct reclaimed look.
In places, knots have been filled, but they have been left unsanded so as to retain the distinct texture. Moreover, the small planks are entirely straight, which acts to produce small splits and chinks, the same as you would find in a weathered timber floors.
Product details:

- Style: 1 Strip
- Thickness: 14 mm
- Width: 190 mmLength: 2200 mm
- Pack size: 2.508 m2
- Pack weight: 20 kg
- Edging: Square Edge
- Installation method: Uniclic Multifit
- Lifetime Structural & 25 Year Residential Warranty
- Commercial Warranty: Available on request
Quick-Step Variano timber floors are available in:
- Painted White Oak Oiled VAR 1629
- Champagne Brut Oak Oiled VAR 1630
- Royal Grey Oak Oiled VAR 1631
- Espresso Blend Oak Oiled VAR 1632
Quick-Step Variano Painted White Oak Oiled VAR 1629

The painted, worn look is increasingly making its presence felt in home interiors (furniture pieces, doors and floors). Time-aged planks were often given a coat of paint at some point in order to give them a new lease of life. Over the years however, the paint starts to flake and peels off in places. Combined with the white paint, the wood grain is subtly exposed and as a result produces an authentic reclaimed and romantic feel.

The wood of "Variano Painted White Oak" was first finished with white, after which the surface was given a gentle sanding. Doing so, the higher pieces were slightly toned down, giving them that 'worn underfoot' look. Some of the cross-joints, which hold the most white, were given an extra bout of sanding. The result is a unique combination of texture and colour shades.

This oiled floor with a painted, poetic look is a focal point in any home interior.
Quick-Step Variano Champagne Brut Oak Oiled VAR 1630

The Quick-Step Variano Champagne Brut Oak Oiled brings a natural, warm feel and extra matt aspect, same as an untreated, rough oak floor. The neutral colour is timeless and combined with the design and the the texture, makes for a fascinating whole
Quick-Step Variano Espresso Blend Oak Oiled VAR 1632

The various finishes, lengths and widths of the wooden plank do the natural, authentic look and the mysterious dark shades of this warm, dark brown floor full justice. The oiled finish creates a cosy atmosphere in your home interior.
Quick-Step Variano Oiled Floor Maintenance
The Beauty of Oiled Wood Floors

Variano timber floors have an oiled finish instead of a lacquered finish like Quick-Step ReadyFlor. Variano is unique...not just because of the ground breaking multi-pattern design, but also because of the hi-tech UV cured European Oil surface.

Unlike lacquered surfaces, Variano uses a state-of-the-art European Oil Coating System for unsurpassed natural beauty. Being different to a traditional lacquered finish, the Variano Oil Coating allows the owner to renew the oil surface when and where it is required, without sanding or having to treat the entire area. Quick-Step Cleaner is used every fortnight or so for normal cleaning with a barely damp mop, just like any timber or laminate floor.

Quick-Step Oil Care is used every month or so to enhance and nourish your floor. A bit like a moisturiser for your hands. This will help to repair or hide any fine scratches and retain that rich, natural look.

Quick-Step Maintenance Oil is used once or twice a year for intense care and repair. it is simply applied with a soft cloth in the areas required (or all over the floor if need), leaving your floor ready for normal foot traffic in a few hours.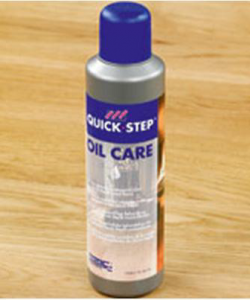 Quick-Step Oil Care is used every month
or so to enhance and nourish your floor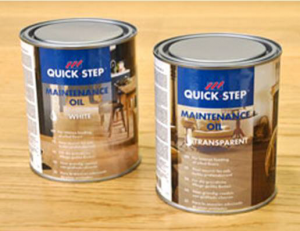 Quick-Step Maintenance Oil is used once or twice
a year for intense care and repair