Quick-Step Imperio Timber Floors
About Quick-Step Imperio Timber Floors
The extra-long and extra-wide planks of Quick-Step Imperio collection breathe class and quality. The floors lend your room an untold sense of depth and exclusivity, highlighting the feel, authenticity and craftsmanship of real wood. What is more, the joints on all four faces of the plank give added prominence to the extra-large plank effect.
Product details:

- Style: 1 Strip
- Thickness: 14 mm
- Width: 220 mm
- Length: 2200 mm
- Pack size: 1.936 m2
- Pack weight: 18 kg
- Edging: Bevelled Edge
- Installation method: Uniclic Multifit
- Lifetime Structural & 25 Year Residential Warranty
- Commercial Warranty: Available on request
Quick-Step Imperio timber floor has an oil coating system for unsurpassed natural beauty, while keeping the maintenance to a minimum. This coating system allows the owner to renew the oil surface when and where it is required, without sanding, or having to treat the entire area.
Quick-Step Imperio timber floor is available in:
- Pure Oak Matt IMP 1623
- Natural Heritage Oak IMP 1624
- Nougat Oak Oiled IMP 1626
- Caramel Oak Oiled IMP1625
Naturals

Two of the new Quick-Step Imperio floors come in a natural look. Both are lightly brushed and have a vibrant variation in colours, structural graining and knots (Marquant grading).

Quick-Step Imperio Pure Oak Mat IMP 1623 (Natural Look)
Quick-Step Imperio Pure Oak Matt floor has been treated with a matt varnish to give an extra protection coat, and coloured with a very light white pigment. This lends the engineered wood floor a softer, whiter look, instead of the somewhat orangey tint of a natural treated oak. The Pure Oak Matt is a firm favourite, and as such has been made available as part of all Quick-Step engineered wood collections. Go for the plank size of your choice!
Quick-Step Imperio Natural Heritage Oak Oiled IMP 1624 (Natural Look)
Quick-Step Imperio Natural Heritage Oak Oiled uses European White Oak as its base but has been finished with a natural oil. The combination of large knots and flowers with a gentle brushing and subtle joints around the planks vouch for this floor doing an excellent job inside warm and cosy home interiors.

Authentics
The "Authentics" are floors intended for lovers of an authentic and rough wood look. In order to lend the magnificent weathered look of the engineered wood planks even greater impact, Quick-Step introduced a new group as part of the sorting system that designates the quality of the planks: "character grading." The knots are even bigger and deeper, the knots and cracks are filled with a dark filling, but not completely and the brush is even deeper and more authentic so as to give the wood grain even greater emphasis and to add more texture to the design. The vibrant character of the wood will see you bringing nature into your home!
Quick-Step Imperio Caramel Oak Oiled IMP 1625 (Authentic Look)
Imperio Caramel Oak Oiled is an engineered floor which calls to mind old cottages and castles, with a flooring that has turned a lovely brown courtesy of the cracking fireplace, and owing their authentic charm, large knots and cracks included, to a series of machining operations that serve to highlight the authentic character of the floor. First the floors are smoked, giving them the eye - pleasing caramel tint, all of which produces gorgeous colour differences between the planks and within the planks themselves. Next, the knots and cracks are given a light rub with dark brown, almost black sawdust and filler, making it look as though the cracks - a result of the 'work' performed to the wood - have gathered a coat of black grime over the centuries. Finally, after smoking and filling, the floors are given a deep brush, than goes beyond the usual brushing. The engineered wood floors are subsequently protected with several coats of quality oil. Oil is much finer than varnish, it is mindful of the artisanal texture of the surface and creates a matter, more natural look.
Smoking Oakwood is a process whereby the tannic acid (tannin) inside the wood takes on a darker colour due to the effect of ammonia vapours. The longer the wood is exposed to ammonia, and the more tannin the wood holds, the darker it becomes. As every piece of wood has a different tannin content, every plank responds differently to the treatment.
Quick-Step Imperio Nougat Oak Oiled IMP 1626 (Authentic Look)
The Imperio Nougat Oak Oiled floor planks stand out by the four joints that underscore the ample width and length, the distinctive "character grading", with its hand-sanded knots, the heavy brushing it has been given and the dark coloured knots and cracks. This floor has not been smoked, but greyed with white oil subsequently rubbed into the wood by hand to give the grey a softer and patinated charm. This looks as though an age-old floor has been sanded down and oiled again. In short, an eye - catcher in any home interior.
Quick-Step Imperio Oiled Floor Maintenance
These timber floors have an oiled finish instead of a lacquered finish like Quick-Step ReadyFlor. Imperio is an unique floor, not just because of the massive-sized reclaimed boards, but also because of the hi-tech UV cured European Oil surface. Unlike lacquered surfaces, the Imperio floors use a state-of -the-art European Oil coating system for unsurpassed natural beauty.

Quick-Step Cleaner is used every fortnight or so for normal cleaning with a barely damp mop, just like any wood or laminate floor.
Quick-Step Oil Care is used every month or so to enhance and nourish your floor. A bit like a moisturiser for your hands. This will help to repair or hide any fine scratches, and retain that rich, natural look. Quick-Step Maintenance Oil is used once or twice a year for intense care and repair. It is simply applied with a soft cloth in the areas required (or all over if need be), leaving your floor ready for normal foot traffic in a few hours.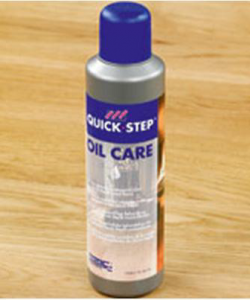 Quick-Step Oil Care is used every month
or so to enhance and nourish your floor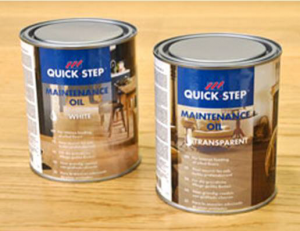 Quick-Step Maintenance Oil is used once or twice
a year for intense care and repair